End Of month/Year
Which one are you…. The DRIVEN or the Scared by this… yes Tic Toc, Tic Toc! It comes down to perspective, you can beat the month before, erase a tough month, year, or continually improve!
I am probably not the only one that loves and hates the end of the month/year, or is that what drives us? Yep, New Year, New Month, and we are starting at ZERO. Ha ha ha! Unemployed & New Opportunity begins! For some this battle can be daunting, and unbearable, and others seem to THRIVE in this environment. I love this opportunity, I THRIVE IN IT..
You see I grew up in a small town outside of Buffalo, New York. When I came home form summer break, I worked 3, 20 hour a week jobs, saved all my money, which seemed to be gone by the end of the first semester back at school. Fresh outta college, I worked "Quick-Fixing cars" renting units out on the dream of becoming management and the security of the salary! (which was not that much)
YOU ARE WORTH XXXXXXXX….. What's that number for YOU? (are you willing to allow someone to put a number in the blank)
At first I was scared of the thought, and I wanted stability. It did not take long to learn that in sales, when you take care of your clients needs and interests that the rewards follow.
You see, so many have been sold the idea that security is in a fixed number, and they feel security in this number? While others like me feel trapped just thinking about that mindset. We learned after the last crash that the only folks that are truly secure in their position in a downturn are those who can adapt, and see through adversity!
(Full Disclosure. During the crash, I did look to see what else I could do, and tried to find a J O B. However, That proved to be a challenge, and it made me realize the opportunity I currently had and how incredible it was. I just needed to see this through the hard time)
What does this teach us? Hmmmm Let's take a look… (Month end/Year End Self-Inventory) 
Stay Actively searching for ideas and ways to improve
Monitor Trends
Be willing to collaborate and Mindshare
Become a lynchpin
Get involved in your community
Give till it hurts
Remember your why
Be Humble
Be Creative & Fun
Simple thoughts and ideas, however, we need to be reminded from time to time.. As we stare down the end of the year or month, do a mental inventory! Write ideas on paper, or in an app like Evernote, and continually look to improve. Analyze whats working and whats not, and be fast to act on whats not getting the results you need or desire.
Mindshare thoughts: 
Cliche'
We become most like who we associate with! 
"Your Dream Team" -Choose Wisely
Yes this is true, so make sure the people (your team) you spend the most time with challenge you to be better other wise your results may be suffering do to "Debbie Downer Syndrome!" Never underestimate the value of input from those you respect the most. Before making any large decision for your business, its INVALUABLE to the outside/unbiased opinion of those who you trust. It could save you from countless headaches and save you thousands in challenges.
In sales no matter the business, we are our own business within a business, and NO ONE can tell us what we are worth, only WE can decide that for ourselves. I love the sales industry, because I am NOT AFRAID to hustle and work smart and hard! I will put the hours in to out hustle my competition, and I love the reward that comes from it too.
"Nobody puts baby in a corner!" – Dirty Dancing
Thats right, WE choose… I love sales because I love the hunt, and I love getting rewarded for the effort we put in!
If you can DRIVE A NUMBER, YOU will NEVER GO HUNGRY!!! My challenge for you is to stay motivated, write down your whys, and write down your goals and desires for the new year and start knocking them out!
My Mantra I would like to share..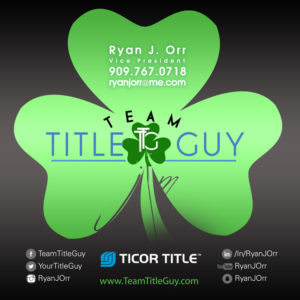 People say you are "Lucky!"
My response,
"You are damn right I am, cause the true definition of luck is where HARD WORK meets opportunity!"
Hence my favorite hashtag is #CreateYourOwnLuck.
Go out there and earn your unfair share, cause YOU who work for it more than deserve it!